Safety at Dewitt Construction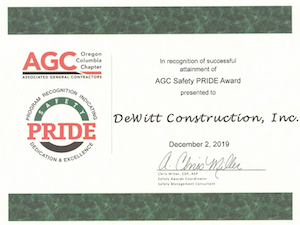 Safety is one of the core values driving our company toward realizing our vision of becoming the contractor of choice for deep foundation and excavation construction in the Pacific Northwest.
The Leadership team is dedicated to making DeWitt a leader in safety within our specialty market. Our full time risk and safety manager administers our comprehensive Risk Management Program and an extraordinary emphasis is placed on safety and loss prevention.
A Brief Overview of our Risk Management Program
Drug and Alcohol Testing & Education: DeWitt has a company-wide, top-to-bottom, drug and alcohol testing and education program that is vital to our safety program. We complete pre-employment, post-accident, for cause and random testing for all our employees.
Incident Prevention Program: Our Incident Prevention program is designed to control the conditions, practices, and human actions that are responsible for incidents.This program is always evolving, taking into account the latest best practices, regulatory and changes in the construction industry that could have an effect on safely performing the work.
Management and Supervisory Awareness: Our managers and supervisors are trained to monitor for safe working conditions and the behaviors of employees to follow safe work practices.
Dedicated and Trained Employees: DeWitt's knowledgeable employees constantly apply their safety training every day, in every aspect of their work environment.
Our employees are our most valued asset. It is our policy that every person is entitled to a safe place in which to work. All employees are empowered to exercise "Stop Work" authority if an employee believes the working conditions are unsafe or the employee does not have the proper training to safely perform the work.

DeWitt is proud of receiving the AGC-Oregon PRIDE (Program Recognition Indicating Dedication and Excellence) Safety Award in 2019 and 2018.